Accueil
The conference will celebrate this event with invited talks by collaborators and leading researchers in semiclassical and microlocal analysis applied to the mathematical physics, in particular the theory of quantum resonances.

♦ Date: June 11(Tue), 12(Wed), 13(Thu), 2019
♦ Place:Institut Henri Poincaré (IHP), l'amphithéâtre Hermite
♦ Speakers:
BONY, Jean-François (Bordeaux)
BRIET, Philippe (Toulon)
BRUNEAU, Vincent (Bordeaux)
GERARD, Christian (Orsay)
GRECCHI, Vincenzo (Bologna)
GRIGIS, Alain (Paris 13)
HELFFER, Bernard (Nantes)
KLEIN, Markus (Potsdam)
NAKAMURA, Shu (Gakushuin)
NIER, Francis (Paris 13)
ROBERT, Didier (Nantes)
ROULEUX, Michel (Toulon)
SACCHETTI, Andrea (Modena)
SJÖSTRAND, Johannes (Bourgogne)
WANG, Xue Ping (Nantes)
ZWORSKI, Maciej (Berkeley)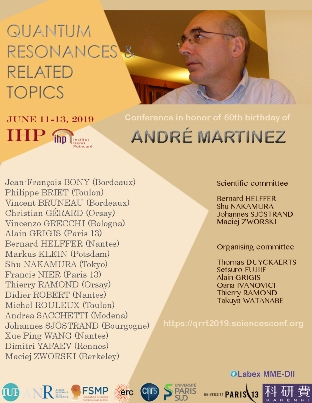 ♦ Program & Abstracts:
Please download the next link Here.

♦ How to register:
You need to log on to "scienceconf.org" to access your personal space. If you do not have an account, please create one. Once you are logged in, click on 'Register (S'inscrire)' in the left column and follow the instructions. The registration form is open until May 31.